Working from home does not have to be as dull as working in a gray cubicle. When working from home, you have the freedom to set up your space any way you want. Having a designated workspace is needed to be productive. Not much will be accomplished working from the couch. Find your perfect room and accessories to keep you on track while working from home.
Unless you are the type of person that can work anywhere, a clean and bright workspace is a must. The place in your house that you dedicate to work needs to be both. Too much clutter will distract you from the tasks you need to do. A designated room that you can shut off from the rest of the home would be ideal. If not possible, find a corner to put your office in. This way, you can put your back to the chaos in the rest of the room.
Storage
Living alone or with others, storage is a need to balance your work and private life. Your home should not turn into an office. Being able to tuck away work when you are done is essential. The Wall Control Office Wall Mount Desk is an excellent option for those who have limited space. All your crucial office supplies have a spot and are easy to access. Hayneedle has a filing cabinet that looks like a stylish chest. When visitors come, it will blend into your décor and be and extra place to set things. All while keeping our work supplies and files safe and out of the way.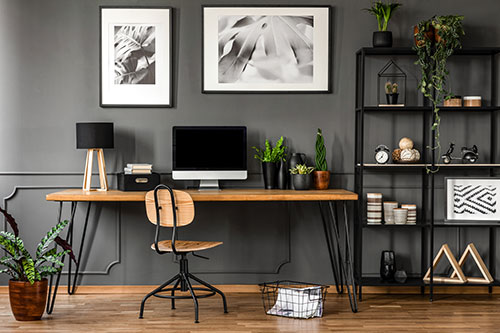 The Desk
In a pinch, the kitchen table can be substituted as a great desk. This is not the ideal situation when working from home. There may be a few too many trips to the pantry. If you have space, find a desk that you can leave in a permanent situation. A dedicated area is always the most ideal. A portable desk is another good option. When you need it, it can stay up, and if you need the room, it can be tucked away. The Sleekform Folding Desk is stylish with its rustic top and hairpin legs that can be tucked in. It will be useful for more than just an excellent space for working.
Take Care in Picking a Chair
Your recliner needs to be eliminated from the list of possible work chairs. Another one to cross off your list is your kitchen chairs. There is no way they will feel comfortable enough to get through a day's worth of work. Herman Miller's Sayl Chair may be a bit of an investment, but it's eye-catching and has your comfort in mind. Wayfair has a large selection of office and desk chairs to fit every budget. One that could bring some character to a home office is the Pennell Task Chair, one of the ten colors is bound to be perfect.
Create or enhance your home workspace!