There are all sorts of different types of polls that all lend a hand to helping you get your opinions out to the world. Did you know, your answers to survey questions can make changes to how things are done? Whether it's a show of hands about an office luncheon meeting space, or an anonymous online survey you get paid for, your answers drive actual change. That's why surveys are such a powerful tool.
Pop Culture
Nielson Media Research has been a television audience ratings fixture since the 1950s. This group selects households at random to represent everyone in their area, and then extrapolates television ratings from whatever those households are watching. Advertisers run commercials based on this information, and these numbers determine whether or not our favorite shows stay on the air or get cancelled. AMC Networks encourages fans to sign up for a spot in their Popular Culturists group, which sends out surveys that help name future programs and shape outcomes of everything from line-ups to trailers.
Politics
Political candidate surveys may feel like a fruitless effort to predict the outcome of an election, but many times, the goal of them is to collect opinions about important issues to voters. Pew Research Center says, "Polls help to explain, among other things, what issues are important, how candidate qualities may affect voters' decisions, and how much support there is for particular policy changes."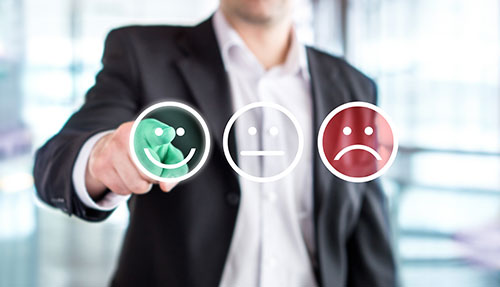 Work
Giving unsolicited suggestions at your job can be intimidating, that's why it's important to participate anytime you're given the opportunity to provide feedback. Your job may have something as simple as a suggestion box, or they may have company-wide surveys they expect you to complete regularly. Whatever the case may be, your opinions can drive changes that range from water cooler locations to management procedures.
Medical
After you've gone for an appointment with your doctor or an ER visit, you may have noticed the facility sent you a patient satisfaction survey asking about the care you received. The questionnaire most likely asked you about things like wait times and staff professionalism. Don't wait until you've had an unpleasant interaction to fill out one of these surveys. You won't receive compensation for your time, but your insights have a positive impact on healthcare in your area. The Oman Medical Journal explains the information from these surveys "provides the opportunity for organization managers and policy makers to yield a better understanding of patient views and perceptions, and the extent of their involvement in improving the quality of care and services."
Surveys are often a quick and anonymous way to get your opinions about the way things are, and how they should be, out into the world.