Working from home has become a reality for many. Some cannot wait to get back into the office. Then some never want to step foot in the office again. The options have been opened. Working in an office may never be the norm again. And even if it is, there are so many other high paying options that can keep you in your home.
Stylist
A personal stylist is a great way for those that love fashion to make money from their passion. Shopping online has become more and more popular, making working from home a reality for many stylists. Leaving the house to shop won't feel the same as leaving the house for the office. Glassdoor reports that most Personal Stylists make around $25,000 a year. The harder you work, the more you will earn. Those that are good at listening to clients will have more success with returning customers and referrals. This business is all about making people feel confident.
Telephone Nurse
Most nurses do not have the luxury of working from home. If you get a nursing degree, you intend to work in a hospital or other in-person scenarios. Health management companies will hire registered nurses to work for them. With their education, they can handle treatment authorization, case management, and patient education remotely. This is also a great job if you need to take a break from working in a hospital. You can keep using your skills while taking leave. Get paid for your knowledge without ever having to touch a patient.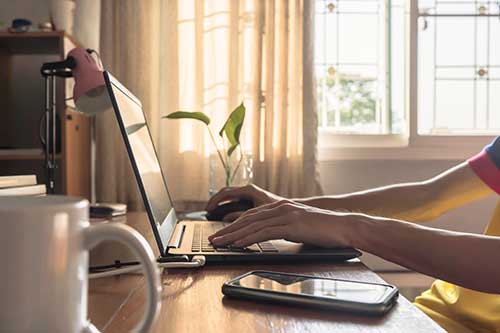 Travel Agent
All the duties of a travel agent can be accomplished with a phone and a computer. Travel Agents are an excellent resource for those too busy working to pay for their vacation. Finding the best deal is only half of the job. They need to have good attention to detail, so their clients feel safe that they are not overlooking anything. All that research can easily be done from your home office. Indeed.com shows that many people think Travel Agents are worth the extra expense as they average a yearly salary of almost $48,000.
Virtual Assistant
Assistants are needed by many in a range of careers. Keeping track of someone's schedule and reminding them of important dates and meetings can now be done virtually. With technology booming, there is no need to be in the same room as the person you are working for. Being a Virtual Assistant will be flexible in that you won't have to sit behind a desk for eight hours a day, but you will need to stay on top of your employer's schedule when required. The salary ranges, but the average Virtual Assistant is making $18.50 an hour, according to Indeed.com.
There is a freedom that comes from leaving the office behind and working from home. The paycheck doesn't have to suffer. Find a high paying job you can do outside the office.